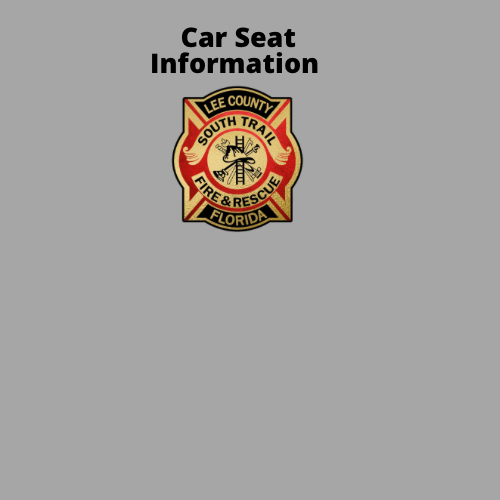 Car Seat Appointment
South Trail Fire Department has over 16 different people certified to help install or check the installation of your car seat. You can schedule an appointment by calling (239) 936-5281 and ask for Amy Bollen or Lindsey Powell. This service is free and always available.
Car Seat Safety Guide- 855dolor55.com/en/ultimate-car-seat-safety-guide/
Guidelines for Protecting Your Child
Here are the top five recommendations for keeping kids safe in cars.
For the best protection, keep kids in a rear-facing car seat until they are at least age two and have outgrown the height or weight limit on the label of the car seat. Keep them in the safer rear-facing position as long as possible, because kids who ride rear-facing have the best protection for their head, neck and spine.

Children who have outgrown their rear-facing car seat move to a forward-facing seat with a harness. Keep them in the forward-facing car seat until they reach the weight or height limits on the label of the car seat. Remember to use the car seat's tether to secure the forward-facing car seat to the car.

After a child gets too big for the weight or height limits listed on the forward-facing car seat's label, move to a booster seat used with the vehicle lap and shoulder seat belt.

A child is ready for using the seat belt alone when they pass these three tests: The child's knees should bend at the edge of the seat when their backs and bottoms are against the vehicle seat back; the vehicle lap belt fits snugly across the bony hips or upper thighs (not soft stomach); and the shoulder belt fits across the bony shoulder and chest (not across the soft face or neck.)

All children under 13 years of age are safest riding in a back seat.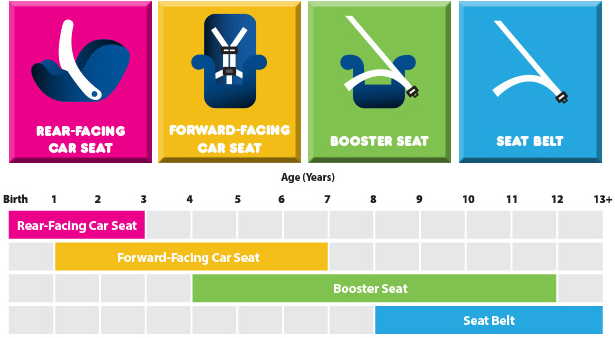 TYPES OF CAR SEATS
Select the car seat or booster seat that fits your child, fits your car and fits your budget. We will guide you through finding the right car seat and helping you use it correctly.
There are three types of car seats: rear-facing, forward-facing and booster seat.
Even though there are many different models to choose from, all car seats meet the same U.S. federal safety standards.
CAR SEAT PARTS
Here are the basic parts of every car seat.
Some car seats also have extra features. Buy a car seat that already comes with the extra fesatures you want. If you add those extra fwatures (called aftermarket prodcuts) later, such as ladding for the hardness traps, they can make your child less safe.
READ THE LABEL
Before you buy, read the labels on the car seat or booster seat. Look for the weight, height, and age limits to make sure the car seat is right for your child. If you're buying online, you can find this information in the product description. Look for a section called "specification" or "specs."
DON'T BUY USED CAR SEATS
Never buy a used car seat from garage sales, flea markets, second-hand stores, or online when you don't know the previous owner or the complete history of the car seat. Avoid borrowing one from someone you don't know.
A used car seat is unsafe if it has been in a crash or if it is missing parts, labels, or instructions. A car seat is also unsafe if the manufacturer has issued a safety recall and the seat has not been fixed. There's just no way to be sure that a used car seat is safe.
REGISTER YOUR SEAT
Complete and mail the registration card that comes with your car seat or booster seat.
If you register your car seat, the car seat manufacturer can notify you if there is a safety recall. Don't worry, the information you provide on the registration card cannot be used for marketing or any other purpose except to notify you about a recall.