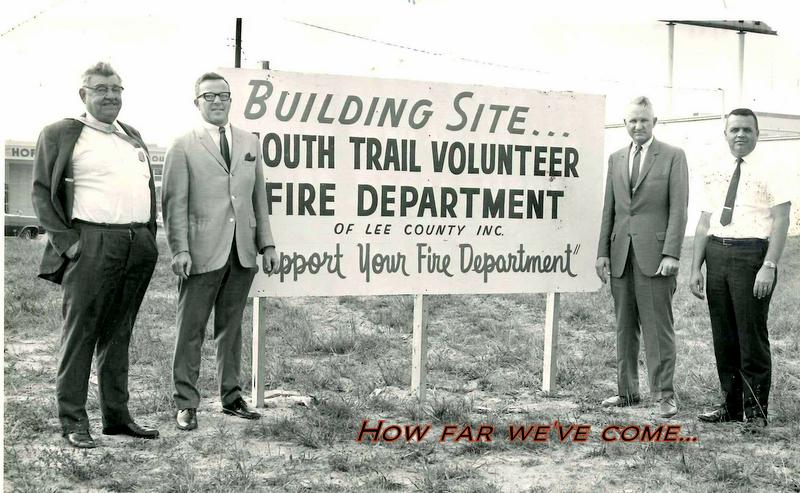 The South Trail Volunteer Fire Department and Rescue Squad of Lee County, Inc. was formed on November 23, 1965, by two prominent residents of the District, J. Foster Pate and Oscar Holmberg. An all-volunteer force of 17 firefighters commanded by Chief Oscar Holmberg operated out of a gas station on the corner of U.S. 41 and Crystal Drive until 1968 when the Department's first fire station was built and the first paid employee was hired. The fire station consisted of two bays, an office and sleeping quarters. Portions of the original structure are still in use at Station 61, the Crystal Drive fire station. The first fire apparatus was a 1000-gallon pumper donated by the Florida Division of Forestry. The South Trail Fire Protection and Rescue Service District was created by the Florida Legislature in 1976.
History Highlights
1968 - The Department employs its first paid personnel.
1971 - The Department employs its first paid fire chief, Al Bradford.
1973 - The first new fire apparatus, a 1973 American LaFrance pumper is received.
1974 - The Department is under the control of Lee County Fire Control. Wade Landrum succeeds Al Bradford as fire chief.
1976 - The Florida Legislature creates seven independent fire control districts, including the South Trail Fire Protection and Rescue Service District. Our service area is established and encompasses a 36-square mile area.
1979 - Staffing is increased to 13 paid firefighters. The first fire inspector is hired.
1980 - Thomas E. Zepp is appointed fire chief. The District has 10,680 permanent residents.
1984 - The Daniels Road station is constructed. Number of paid personnel is 26.
1986 - The District has 39 employees, and responds to 1,438 calls for emergency service.
1990 - The District has 23,914 permanent residents, a 124% increase from 1980.
1991 - Station #3, a new central fire station and administration facility located off Six Mile Cypress Parkway, is constructed. The District receives a new KME pumper equipped with a 750-gallon tank and a 1250 gpm pump.
1993 - The District is one of a select few in the U.S. to recieve an accelerant detection canine, Ranger, through a grant from the State Farm Insurance Company.
1995 - The District employs 51 personnel; operating revenue from ad valorem taxes totals $3,688,121.
1996 - Gateway community residents overwhelmingly vote to be annexed into the District.
1997 - Chief Clifford H. Paxson replaces the retiring Thomas E. Zepp as fire chief.
1998 - An Advanced Life Support (ALS) Engine is placed in service at Station #2, providing paramedic expertise on all calls.
2001 - Station #4 is constructed in Gateway. An Open House at Station #3 commemorates the 25th year of the South Trail Fire Protection and Rescue Service District.
2003 - The District establishes the first CERT (Community Emergency Response Team) volunteer teams in Jamaica Bay and Seven Lakes.
2004 - The District responds to a record 7,164 calls--an increase of 20% from 2003. On August 13, Hurricane Charley struck parts of the District with wind gusts of up to 100 mph. In the hours and days following the storm, crews responded to over 300 calls.
2005 - Mobile data computers installed in apparatus transmit call information and mapping to the scene of an incident. Hurricane Wilma hits Southwest Florida on October 24 and causes roof and antenna damage to Station #1. The District serves as the County liaison with the Florida National Guard in setting up a food and water point of distribution center at Edison College (Florida Southwestern).
2006 - The District hires seven firefighters to fill vacant and new positions. An Open House at Station #3 commemorates the 30th year of the South Trail Fire Protection and Rescue Service District.
2007 - William Lombardo replaces the retiring Clifford Paxson as fire chief on December 3. A Grand Opening is held for the 2300-sq. ft. Safety House next door to Station 61. GPS-based traffic preemption system is installed on 20 traffic lights in South Fort Myers.
2008 - Ribbon-cutting ceremony marks the completion of the renovation of Station 61 on Crystal Drive.
2010 - Groundbreaking ceremony held for a new Station 62 at 13500 Sophomore Lane. District crews respond to 8,074 calls. The District sponsors its 20th annual fire safety coloring contest for District Kindergarten students.
2011 - An Open House at the new Station 62 celebrates the Grand Opening of the 19,000 sq. ft. station and the 35th Anniversary of the South Trail Fire and Rescue District. The District holds its 20th annual neighborhood smoke alarm/battery check.
2013 - The District is awarded a $1.2 million SAFER (Staffing or Adequate Fire & Emergency Response) grant, and hires six firefighters.
2014 - District citizens voted overwhelmingly to increase the maximum millage rate from 2.00 to 2.50. Our ISO (Insurance Services Office) rating improved from a 4/9 to a 3/3x.
2018 - Ben Bengston replaces the retiring William Lombardo as fire chief on March 1.